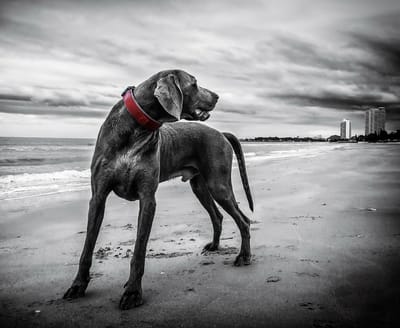 "Creating Balanced and Happy Homes For Dogs and People of Texas."In my opinion there are three kinds of trainers in this world. Treat/Clicker trainers, otherwise known as "The Bribers", Physical -punishment Trainers" I call some of them the Power Trainers, using pain inducing techniques to intimidate dogs into submission"...Then there's me. The K9-Coach. I Train my clients to speak dog with tones and body language, plus a few different tactics that bring all of it together. Thats when the "wow" happens and my clients "get it", and more importantly, so does their dog. After that, it's easy.
Here are so of my dog training reviews for The Woodlands.
The Professional Dog Training methods I use to teach my clients are natural and are the same ones dogs use with each other. Voice tones and Body language are the main keys.
Not
hitting your dog or bribing with treats and or clickers.
My method is easy to learn!
Canine pack structure is normal in every dog pack. Including yours! Where do you stand? Are you in charge? If not don't worry it's not your fault, just an understanding.
I
do not use
treats to bribe your dog or clickers to reward her either. Treats can work wonders for some dogs and some basic obedience training but In the long run treat training is impractical in my opinion. How do you expect your dog to respect and love you if you are just feeding him cookies all the time.
I provide Private in home dog training classes only, I focus my attention on my client and their dogs issues one at a time in your own home. I come to you.
Teaching your dog to sit won't tell him or her that you are a good pack leader. You might see some compliance but is that all you want?
Do you realize that your dogs bad behaviors are most likely attributed to a lack of pack structure in a canine way? Most likely your dog is doing his best to " Run the Show" but honestly does not want the job.
Does it really work?
I encourage you to see for yourself. Check out my reviews on
Yelp
or
Google
. I've helped many people over the years with all sorts of issues with their dogs. Little problems and big problems alike. It does not matter, I can help you. You can also see some of my
Testimonials
here as well.
To find out how I can help you and your family
contact me
and let's set up a
FREE

assessment.
You have nothing to lose except another pair of shoes!
Email is the best way to contact me as we will probably play the phone tag game.
Request
Free Email Dog Training Consultation HERE
OR...
Schedule Your
Free Phone Dog Training Consultation with me HERE
OR...
Take My
Dog training Quiz Here
DOG TRAINER
AREAS SERVICED
Serving all: The woodlands, Montgomery, Magnolia, Conroe, Hufsmith, Alden Bridge, Woodforest, Grand Lake Estates, Sterling Ridge,Panther creek, Indian Springs, Grogan's Mill, Panorama Village, Augusta Pines,Willow Texas.