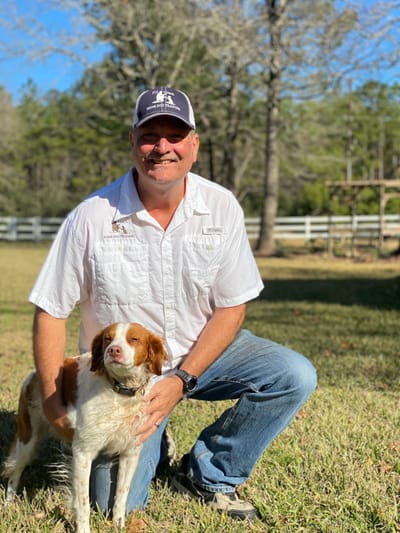 In my opinion there are three kinds of trainers in this world. Treat/Clicker trainers, otherwise known as "The Bribers", Physical -punishment Trainers" I call some of them the Power Trainers, using pain inducing techniques to intimidate dogs into submission"...Then there's me. The K9-Coach. I Teach my clients the art of canine communication using voice tones and body language, plus a few different tactics that bring all of it together. Thats when the "wow" happens and my clients "get it", and more importantly, so does their dog. After that, it's easy.
Here are some of my dog training reviews for The Woodlands.
The Professional Dog Training methods I use to teach my clients are natural and are the same ones dogs use with each other. Voice tones and Body language are the main keys.
Not
hitting your dog or bribing with treats and or clickers.
My method is easy to learn!
Canine pack structure is normal in every dog pack. Including yours! Where do you stand? Are you in charge? If not don't worry it's not your fault, just an understanding.
I
do not use
treats to bribe your dog or clickers to reward her either. Treats can work wonders for some dogs and some basic obedience training but In the long run treat training is impractical in my opinion. How do you expect your dog to respect and love you if you are just feeding him cookies all the time.
I provide Private in home dog training classes only, I focus my attention on my client and their dogs issues one at a time in your own home. I come to you.
Teaching your dog to sit won't tell him or her that you are a good pack leader. You might see some compliance but is that all you want?
Do you realize that your dogs bad behaviors are most likely attributed to a lack of pack structure in a canine way? Most likely your dog is doing his best to " Run the Show" but honestly does not want the job.
Does it really work?
I encourage you to see for yourself. Check out my reviews on
Yelp
or
Google
. I've helped many people over the years with all sorts of issues with their dogs. Little problems and big problems alike. It does not matter, I can help you. You can also see some of my
Testimonials
here as well.
No Treats or clickers:
No need to bribe your dog anymore. Learn to create a Balanced-Bonded-Respectful relationship in a short amount of time.
No Physical punishment:
No hitting, no kicking, no alternative techniques like Alpha Rolling...Ever..... I'll teach you how and you will never need any other training for any dog you have. Once you learn, you will have the training skills for a lifetime.
No Harsh Techniques
I will teach you the proper voice tones-and body language that dogs already use to communicate with each other. It's a very simple yet powerful system of communication that just about anyone can master and is never harsh. If your dog understands what you want, she will WANT to make you happy and follow your rules. It's just that easy. If this Sounds too good to be true, please feel free to read some of my
YELP
and
Google reviews
when you get a chance, you will see people that were having the same kind of issues you are having now with your dog and I can help you too.
If I can't I won't charge you a dime....
Some of The Behaviors & Goals I can Help You With:
Barking
Jumping up on Guests
Off-Leash Training & Control
On Leash Training- loose Leash Walking
Coming When Called-Sit/Stay
Front Door Control- Door Boundaries- Door Rushing-Gate Boundaries
Obedience Training
Minor Aggression Issues
Counter Surfing- Stealing- Chewing
Puppy Training
Potty Training- Peeing-pooping in the House
Home Boundaries | Stair Control | Rooms off Limits
Over All Control
Most any Dog Behavioral issues
Let's get started
Request
Free Email Dog Training Consultation HERE
OR...
Schedule Your
Free Phone Dog Training Consultation with me HERE
OR...
Take My
Dog training Quiz Here
281-747-9464