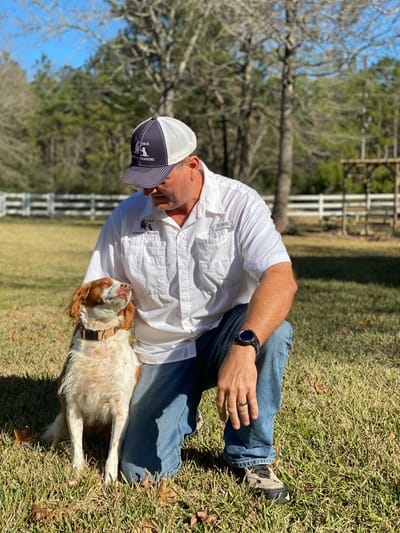 Is it Time To Hire a Professional Dog Trainer?
If you tired of the barking, jumping up , stealing, digging, chewing, leash pulling ....what ever...call me now, I can Help!....
"If I can't help you, I won't charge a dime
."
It's not a cheap sales pitch, it's a fact. I base my reputation on helping people with their dogs. I pride myself on solving the issues people are having with their dog or puppy everyday. If I can't help you, I won't charge a dime.
I also offer Lifetime Training Support
for my clients. This means I am available for you and your dog at any stage of your dogs life for any questions you may have.
"I Train people. Well behaved dogs are the result. Once you learn a more pack leadership mindset you will see the change yourself."
Learn Canine Communication
Never harsh, the techniques are simple and effective and no,
I DO NOT
use
TREATS, Alpha-Rolls or any physical punishment.
That's right.....No treats! After all, the leader of a pack does not need to treat a pack member with a "cookie" to get him to behave, right?
No harsh moves like "alpha rolling." Like I said before, this is not a harsh dog training system. I'll leave alpha rolling for the TV dog trainers.
A balanced system that works almost immediately because your dog already knows pack law . . . and I will teach it to you.
I use positive methods to create positive results. I educate and guide dogs in a manner they understand using canine communication — body language and vocal tones.
Significant experience working with dogs of all ages, eight weeks - 17+ years.
Significant experience solving serious problems such as aggression, separation anxiety and sibling rivalry.
Significant experience solving issues like jumping, barking, pulling on the leash, counter surfing, digging, mouthing/nipping and toilet training.
It would be my pleasure to help you and your dogs too!
Contact me
here to find out if your dog is a good fit for my training program. Simply fill out this
dog training questionnaire
so I can assess the issues in your home and the dynamic of the pack structure. From there I can then recommend a couple of training packages that would suit your needs best.
We can then set up a phone call to go over anything you have questions about.
There really is nothing to lose.
Request
Free Email Dog Training Consultation HERE
OR...
Schedule Your
Free Phone Dog Training Consultation with me HERE
OR...
Take My
Dog training Quiz Here
K9-Coach Home Dog Training : The woodlands, Montgomery, Magnolia, Conroe, Hufsmith, Alden Bridge, Woodforest, Grand Lake Estates, Sterling Ridge,Panther creek, Indian Springs, Grogan's Mill, Panorama Village, Augusta Pines,Willow , Pinehurst Texas, Spring, Tomball. 281-747-9464